Episode 2 of the Spiritually Minded Mom podcast is an interview with Alie Jones. When Alie got married, she and her husband had their whole life planned out perfectly, but Alie's motherhood journey has not been easy and has been anything but her perfect plan. Through everything she has gone through, Alie has learned to rely on God. I felt so inspired by everything she shared, especially this quote.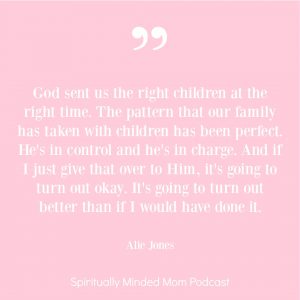 Show Recap
Alie gives amazing advice on how to best help someone who is grieving. She shares how she overcame feeling angry at God and why this quote by Neal A. Maxwell is so important to her: "Faith in God includes faith in His timing."
Despite their path not going as planned, Alie and her husband have opened their home to foster babies. Their philosophy is, "If you have more than you need, build a longer table, not a higher fence." You'll hear how Alie believes bringing foster children into their home is helping her own children learn to love and understand the gospel of Jesus Christ in action and how it helps her to gain new perspectives on motherhood.
Alie has an amazing determination to thrive despite the trials she has been given in motherhood. If you are struggling, her story will give you practical and spiritual ways to find hope and support.
How to Listen
Listen to the podcast below or on iTunes. If you like the show, please subscribe and leave a review.

Show Notes
Follow Spiritually Minded Mom:
Blog: spirituallymindedmom.com
Instagram: Instagram.com/spirituallymindedmom
Facebook: facebook.com/spirituallymindedmom
For more inspiration from Alie, follow her on Instagram @delightedtobe.
To read more about faith from Neal A. Maxwell, go here.